Download:Click here yeeeeees!!
Mirror:Click here to explosion!?
DLMirror:Click to here, third explosion??
Package Overview
・Pack Name:Etterna Explosion Excitepack
・Songs:207
・Member:35
・release:2019/10/18
・Skill:stream,jumpstream,handstream,stamina,jackspeed,chordjack,technical
・Organizer:stepdwi
・Pack Banner:dagger
・EEEpack Ruins(Discord Group) ⇒ It becomes a template to make a pack
Other Pack
・Compulsive Chordjack Collection ⇒ Chordjack Pack
・DumpAss Dude's Dream ⇒ Dump Pack
・Acerola ⇒ Variety Pack
・xXxRUSSIAxXx 3 ⇒ Variety Pack
FIX
・2019/10/18/ D.E.M.(IN) note decreased
・2019/10/19/ Hello Happiness、We're so Happy (PxLight Remix)
note decrease, because roll was saved with 3.9
Etterna ⇒ "note decrease"
3.9 ⇒ ("Invisible Note & Crash")
last fix sorry
Hello!
This pack is a collaboration project between Eastern and Western charters.
I played Stepmania/Etterna for about six months this year and I decided to host a pack for people who enjoyed stepping as much as I do.
There are a lots of file types in this pack, namely:
Jumpstream, Handstream, Chordjack, Technical.
There's a small amount of stream, stamina or jackspeed focused files too.
The difficulties range from very low MSD to high MSD, there's a little something for everyone.
There is at least 1 file with an MSD above 30 for every skillset.
They're a good challenge
I look forward to seeing your scores on EtternaOnline! ( ^ ^)/
Songlist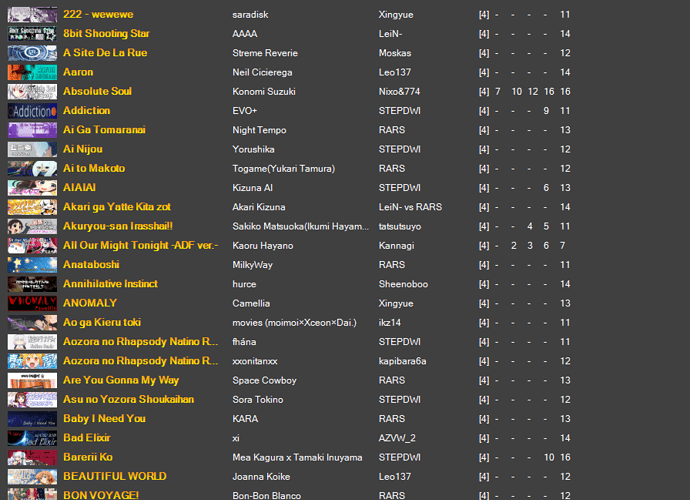 1,Submissions
2,Test Player
Denkyu
Hanabi
Noire
Sofin
3,BOSS
tjddydrl ⇒ Stepmania Asia Forums