Click the banner to download, or click here: [DOWNLOAD]
After a year in the works, it's finally here! This is mine and Sheenoboo's second co-hosted pack.
Acerola is a community variety pack that is meant to showcase the best of various file types. You can find nearly anything you enjoy in this pack somewhere, be it scoring files, tech files, dumps or even chordjacks. That being said, just because its variety does not mean we skimped out on quality. We made sure the files in this pack were the best they could possibly be, and I can safely say I think we succeeded. I am extremely happy with how this pack has turned out, everyone put in their best efforts and the result is a pack that both me and Sheenoboo are extremely proud to have hosted.
The pack's main difficulty range is actually very wide, so this pack should have a little bit for everyone, ranging from 14MSD files all the way up to 28MSD files, every type of player should have something to play and enjoy! The manual difficulty ratings in this pack are based on Etterna 0.69's MSD ratings, mixed with mine and Sheenoboo's own personal opinion on how hard the file is.
The song choice in this pack is also extremely varied, as you can see from the song list below: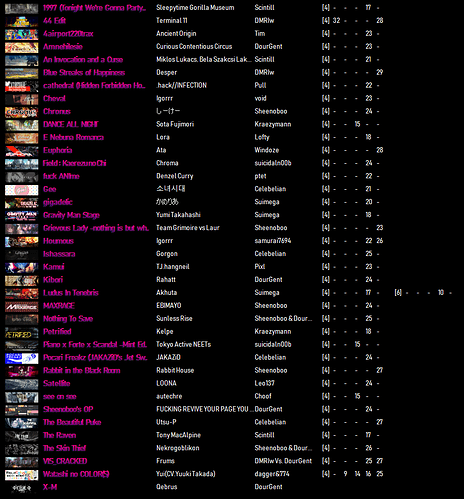 This will actually be the last pack that me and Sheenoboo will be hosting with open submissions. If we are to make any more packs, we will not be opening submissions, so with that being said, it has been an absolute pleasure to work with everyone on Acerola.
Thank you list:
Thank you Celeb for immediately reaching the submission limit.
Thank you Suimega for reviving just to give us 3 absolute banger files
Thank you Tim for helping with QA and submitting.
Thank you Deamerai for helping with QA significantly, and submitting.
Thank you ptet for sending bad music
Thank you void for letting everyone fix your file
Thank you Leo for sending kpop and making me LIKE it. Fuck you
Thank you windoze for making a good psytrance file.
Thank you everyone who submitted their amazing files to the pack, rejected or not, you are appreciated.
Thank you everyone, for playing mine and Sheenoboo's files, throughout the years as we learnt to step.
With that being said, we hope you enjoy the pack!