▚▚▚▚▚BIRTHDAY RELEASE▚▚▚BIRTHDAY RELEASE▚▚▚BIRTHDAY RELEASE▚▚▚▚▚
▚▚▚▚▚BIRTHDAY RELEASE▚▚▚BIRTHDAY RELEASE▚▚▚BIRTHDAY RELEASE▚▚▚▚▚


CLICK BANNER TO DOWNLOAD OR CLICK HERE
▚▚▚▚▚BIRTHDAY RELEASE▚▚▚BIRTHDAY RELEASE▚▚▚BIRTHDAY RELEASE▚▚▚▚▚
▚▚▚▚▚BIRTHDAY RELEASE▚▚▚BIRTHDAY RELEASE▚▚▚BIRTHDAY RELEASE▚▚▚▚▚
Dour 5 is a pack focused mainly on the atmosphere of files. A lot of files have atmospheres surrounding them, and I wanted to make a pack that was dedicated to that type of stepping, since its not particularly common. This can be anything from a file being immersive to a file that gets you to jam to the music. It's a vague concept but its one that I've cared about a lot for a while now, and wanted to pay tribute to people who make files like that with this pack.
That being said, here's the songlist: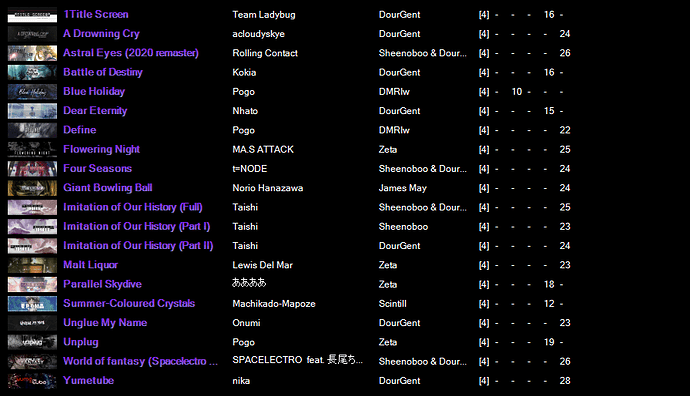 The difficulties in the songlist are based on MSD + how much I think a file is underrated.
Obviously with the current climate regarding players and general sentiments towards files, I would like to state that these files are made for sightread attempts on 1x rate. Previewing the files or uprating them on your first time playing is not recommended.
Special thanks to:
Sheenoboo, for helping me with pretty much every part of the pack as he always does, and for the GFX
DMRIw, for sending some banger files even if it is a bit out of their comfort zone
James May, for sending one of my favourite files from him in a while
Scintill, for giving me Summer-Coloured while everyone was fighting for it, the true MVP
Zeta, for asking if he'd reached the file cap yet 3 separate times
Everyone in the leftovers server, you guys are ballin' (and helped me QA and stay motivated)
Enjoy the pack! Everyone's put their best into it and I believe it shows, have fun.
Artist used in pack banner: まひる