If you're in a rush, here's a link to the pack here.
Hello there everyone! I have recently posted some of my "legacy files" onto the forum, which have successfully made it to ranking on Etterna! You can find the original link to the forum post of my legacy files here! This accomplishment has lead me elated to publicly post even more of my files (and hopefully queue them through ranking), presenting you with the first of my many installments of the "epsilon collection pack"!! Some of these files have already been created for some time ago, and are just now being publicly released. I've had the urge to make my presence known for some time now, considering how much more skilled I've become as a charter. I've mainly been uploading my beatmaps onto osu!, however have now felt more comfortable uploading my files onto the Etterna forums.
The pack features around 15 files, ranging from chordjacks to dumpstreams with somewhat of an intermediate to expert-like difficulty range. Some of these files may be present in other packs, however a majority of the files in this pack are unique. Nonetheless, I hope you do enjoy these files as much as I've spent making them, and I'll be coming back with more in the future. Click here to download the pack.
If the hyperlink fails: https://mega.nz/file/cFRxnDya#4W5Zxq8WKtSg3eUFaPrq3XvsF1mkDTZ24-SPOAwxYs4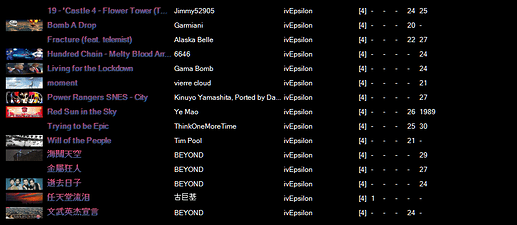 (ivEpsilon) 19 - 'Castle 4 - Flower Tower (Track 1845) / Jimmy52905
(ivEpsilon) Bomb A Drop / Garmiani
(ivEpsilon) Fracture (feat. telemist) / Alaska Belle
(ivEpsilon) Hundred Chain - Melty Blood Arrange / 6646
(ivEpsilon) Living for the Lockdown / Gama Bomb
(ivEpsilon) moment / vierre cloud
(ivEpsilon) Power Rangers SNES - City / Kinuyo Yamashita, Ported by DanTheVP
(ivEpsilon) Red Sun in the Sky / Ye Mao
(ivEpsilon) Trying to be Epic / ThinkOneMoreTime
(ivEpsilon) Will of the People / Tim Pool
(ivEpsilon) 海闊天空 / BEYOND
(ivEpsilon) 金屬狂人 / BEYOND
(ivEpsilon) 逝去日子 / BEYOND
(ivEpsilon) 任天堂流泪 / 古巨基
(ivEpsilon) 文武英杰宣言 / BEYOND
And yes, if you do find any problems with the pack, download link, or just me in general

, give me a reply, please and thanks!