January 14th: Mostly accuracy focused session
AAAA's this session: 23 | AAA's this session: 27
So most of the week I was getting recommendations from Dour to play Gochamaze 2, which is basically all offsync, couple that with some desyncing I was getting in general and you have a recipe for literally just visually reading all week. I decided to have a proper accuracy session, where indeed there were even times I used audio to synchronize my arrow taps! Actually got to spend a lot of time opening files in Arrow Vortex and seeing if I could salvage the sync by only moving offset, apparently syncing files is hard or something because people seem to not be able to do it lol.
Starting off with perhaps my favorite wife quad fairly early into the session. this file is really fun, and I'm glad to have finally preformed it to a degree of justice it deserves. Lots of tech bits and graces in this file to throw you off for sure. The other scores on this file are from several months ago (2-3) and over 2 years ago (4-5) respectively.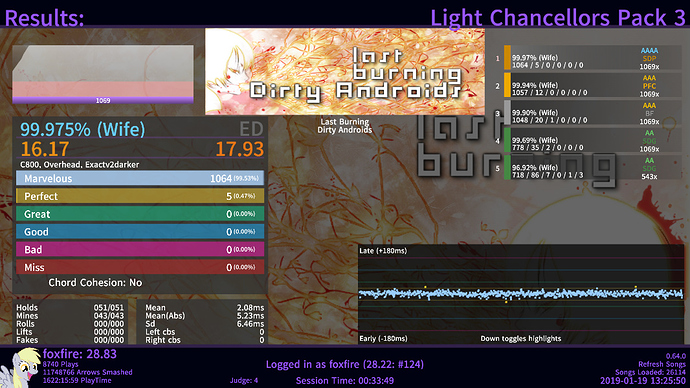 In between accing more techy teens files I was also doing some more mid 20s area control. This was a very old goal of mine, well not to wife AAA this but to get a clean FC. This is one of my favorite files from YM1, and every once in a great while (maybe every 4-6 months) I revisit it to see what I can do. I also AAAd brute force but I think this one is a bit cooler.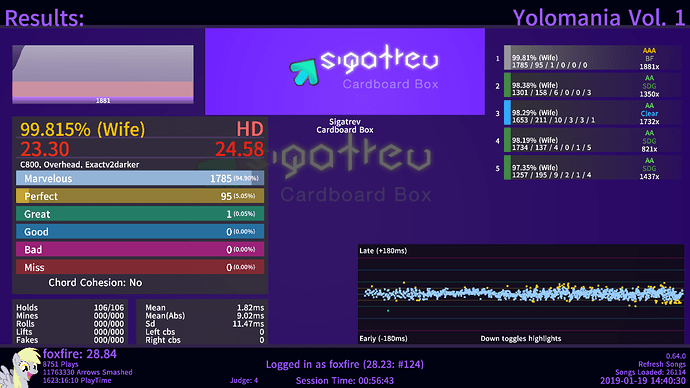 One of my cooler 0p runs this session, this had a number of snap switches and looking in the editor shows I was handing a whole swathe of BPM changes pretty well. This was a really fun one from FFR Community 4, where I was spending a lot of my time ironing out old CCon and unplayed things today.