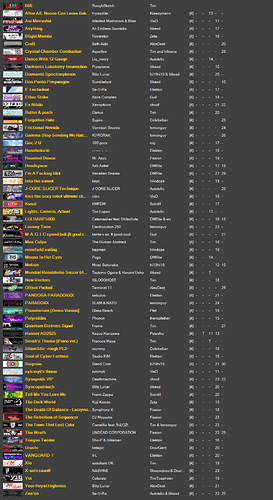 USP for a very long time has been a pack that I always looked to as wonderful collection of exemplary files. After having released stuff back to back since I started back in 2015, I had the idea to start this back in October of last year with the simple goal of making a pack for Etterna that had the same standard of QA as the pack its named after.
This pack has been a long time coming and I'm proud of every ounce of work that went into it from everyone that submitted and participated in the project, thanks for sticking it through.
Hope ya'll like it, and Merry Christmas.
Credits:
Fission - Worked alongside me judging and reviewing files and maintained a high bar of quality for every file in the pack, he put in hella work as well as submitting files of his own
Kraezyman - Made several of the fantastic GFX sets you see in the pack
wlplpmpn - Came out of nowhere and made well over half the sets in this pack, his work is incredible
Coolboyrulez - Came in clutch with a handful of GFX sets and also got me hooked on FFXIV thanks asshole
Gazelle - ICE mm mm ah he made gfx
Here comes all the charting people lmao:
AutotelicBrown - Chart contributor and helped with doing chart QA
ilikexd - Big Floppa Fan and chart contributor
hi19hi19
Guilhermeziat
Elekton
DMRIw
VisD
Windoze
AlexDest
theropfather
Patashu
Scintill
DourGent
Zeta
Choof
Wiosna
wv
TheToaphster
lemonguy
rog
Celebelian
Sheenoboo