(click the banner to download)
(all of these files are uploaded with permission from the original charter.)

Indonesia Independence Day Release

Hey, towakane here.
I want to release my (second) osu! collaboration here. Most of them are from osu! and all of the files are already synced by me.
actually, I'm lazy to type a lot. But here is the song list: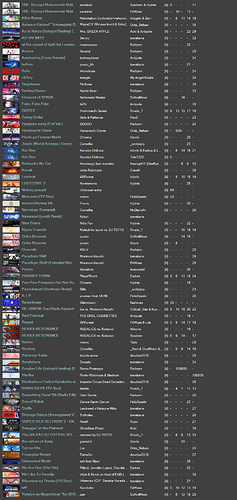 I also thank Anonymous for test-playing some and also giving suggestions for the pack, as well as _Stan, _underjoy, Aoki, Alleyne, Antipole, Arzenvald, Awang411 (DesKurisu), Azure (LuxAzure), Critical_Star, CrewK, DoNotMess, doudou0310, DustMoon, Dwbss, Eedow, ExNeko, FAMoss, FelixSpade (this guy is VERY cool), flashnias, Hydria, Ichigaki, Kuo Kyoka, Lita, Lude, MyZterioN-, My Angel Koishi, Onta_Bekasi, Rivals_7, Reihynn (this guy is cute), Ryax, Syadow-, Ticle, Tofu1222, Wonki, Zan - for submitting/allowing me to upload their charts.
yeah i know, almost 40% of them are chordjacks