White petals, falling like tears in rain, floating down sadly and sadly, like leaves into the abyss. A breeze blows nonchalantly.
Click on the banner or this download link to download the pack.
Formerly named as Breakcore Empress, Memories of Flower is a pack of 15 charts that I've made from September 2021 to April 2022. Not counting outliers, the MSD difficulty range of this pack is about 18 to 24, but there is a 27 in this pack as well. At least half of the pack is indeed breakcore (or breakcore-adjacent like drum and bass), so if monotonous music is your thing, this pack is for you.
Most of the charts in this pack fall under "technical", though the degree of technical acumen needed for each chart varies. There are charts that are extremely burst/minijack-oriented, others that are primarily broken jumpstream, and some charts that focus mostly on difficult jumpstream patterning (and is closer to JS proper). There are no explicitly "dumpy" charts in the pack, so there is no use of the pink CDTitle here. Stylistically, this pack is meant to build on and finetune the existing approach I had over the past year and applying it to different kinds of music from the ones in my last two packs. Not much background beyond that.
Songlist: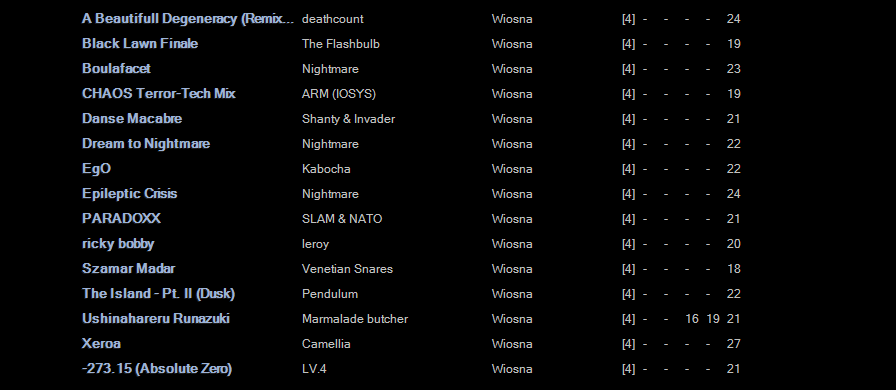 The entire pack making experience was impromptu and scatter-brained overall, but it was distressing all the same because of how much pressure I had on myself over the past few years. Making this pack was, admittedly, one of the least enjoyable endeavours I've done (despite its reward), but I guess there is always suffering in what you do. Regardless of this, I hope you all enjoy the charts produced for the pack – many of which I consider my most focused works.
Credits:
riktoi

for making the banner.

aeoliancarp/VisD

for giving comprehensive feedback on multiple charts in the pack and just being around whenever I needed to talk about my grievances with charting as a whole.

heather

for letting me use her artwork for A Beautifull Degeneracy, Boulafacet, The Island Part II, and Xeroa. You can check out her work here.

Izzz

for letting me use her artwork for Dream to Nightmare. You can check out her work here.

Mismagius

for letting me use his artwork for Epileptic Crisis. You can check out his work here.
Many many people for playtesting my charts through the development of the pack. I appreciate all of the feedback given to me.