DL Link if you don't wanna click a nice banner (nerd)
Sup! Similarly to UEP, I always wanted another VGM focused pack to come out after VGMP 4 and all the wonderful charts that came with it- This is exactly that! On a smaller scale of course, but this meets that goal nonetheless. Within this pack, you'll find 79 well crafted charts, all packaged up with amazing GFX sets mostly by Mollocephalus and others.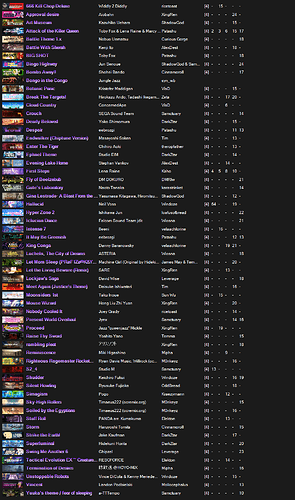 (Hey, there's only 60 charts on this list… what's goin' on?)
I've apologized a few times already, but I want to extend one last apology to the EVGP server, including both judges and those who submitted. I lost a fair amount of drive for charting and pack projects as a whole, and I should have recognized that burn out much sooner than I did. Regardless of that, I still made sure that this pack would release in as best of form as I could make it; I hope that effort shows in the charts on display.
Much like VGMP 4 though, we left a few goodies hanging out within some folders of the pack. If you look hard enough you might be able to find the remaining charts!
Credits:
GFX - Jole, Kraezymann for his initial work, Mollocephalus for basically everything else (this pack wouldn't be out without him lol)
Judging / QA - Zeta, theropfather, Dour, Windoze
Charters (in no particular order) -
ricetoast
XingRen
ShadowGod
Patashu
Curious Gorge
AlexDest
Dour
Cinnamoroll
syn_wb
VisD
Zeta
DarkZtar
Kaho
DMRIw
karastrinket
Windoze
loafusofbread
Wiosna
Temma
James May
Sun Wu
Mipha
M0nkeyz
Elekton
Kraezymann
OddBread
Leverage
Mollocephalus
theropfather
velaachlorine
Before I go, here's a trailer for the pack by Zeta!
https://www.youtube.com/watch?v=s7hPoO14QmM
Thank you all for everything, good morning and good night.