Hello everyone! It's been a while… but the epsilon collection pack sequel is here! Link to the pack if you're in a rush here: https://mega.nz/file/pJ4T2AyD#B9FPgMHyzJeelR4IhmDyU1LMEk5PXhEtx24hYCKNCxE
Within the backlog of files and charts that I've created, some of which have been created recently, I've chosen some of these files to be my 2nd iteration of the epsilon collection pack series. You may have noticed that it has a little bit more files than the previous pack, which I have thought of putting in my 3rd iteration of the collection pack but decided it would be worthwhile to show off to you in this pack, so here it is! The second installment!
I may keep this pattern of releasing the next installment every few months, that is if time permits. Since school is about to begin soon, I may not have a lot of free time making files during the semester, so there may possibly be a drastic decrease to the amount of files I make in the school year. Hopefully though, the charts will be just as great, if not in better quality than they were in the past! (hopefully) But enough said, here is the link to the chart!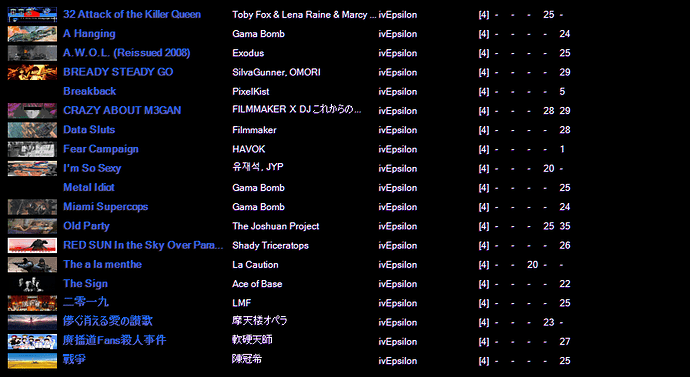 32 Attack of the Killer Queen / Toby Fox & Lena Raine & Marcy Nabors
A Hanging / Gama Bomb
A.W.O.L. (Reissued 2008) / Exodus
BREADY STEADY GO / SilvaGunner, OMORI
Breakback / PixelKist
CRAZY ABOUT M3GAN / FILMMAKER X DJ これからの緊急災害
Data Sluts / Filmmaker
Fear Campaign / HAVOK
I'm So Sexy / 유재석, JYP
Metal Idiot / Gama Bomb
Miami Supercops / Gama Bomb
Old Party / The Joshuan Project
RED SUN In the Sky Over Paradise / Shady Triceratops
The a la menthe / La Caution
The Sign / Ace of Base
二零一九 / LMF
儚く消える愛の讃歌 / 摩天楼オペラ
廣播道Fans殺人事件 / 軟硬天師
戰爭 / 陳冠希
And as always, problems with the metadata or issues with the charts (which I've found almost instantly after uploading this post), please hit up a message or reply in the forum, thanks!!