click the banner for download or here
ART ATTACK is a pack mainly forcus on ART ATTACK and ART ATTACK. although many ART ATTACK is a little bit of ART ATTACK but its still ART ATTACK ART ATTACK. ART ATTACK ART ATTACK ART ATTACK ART ATTACK ART ATTACK ART ATTACK ART ATTACK.
–CAUTION–
this pack contains:
Stupidly long files
Stupidly short files
chinese meme with no translations
banner / subtitle to offence everyone
ART
ATTACK
If you feel uncomfortable, adapt as soon as passible. <3
songlist: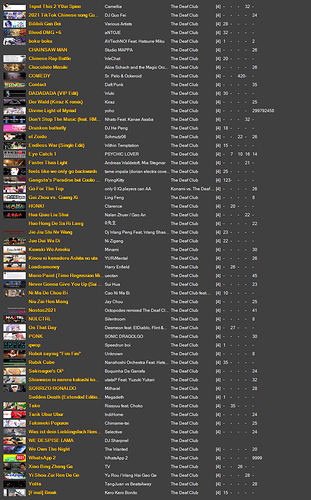 ……密……封……线……内……不……要……答……题……
嗯,我急了,手机电脑全砸了,本来就有抑郁症的我,被别人说我急了,我真的恼羞成怒了,仿佛被看穿了,躲在网络背后的我,这种感觉真的好难受,我被看穿的死死地,短短的急了两个字,我伪装出来的所有的坚强和强颜欢笑全都崩塌了,成了一个被人笑话的小丑,我真的不想再故作坚强了,玩心态我输的什么都不剩。
Um, I was in a hurry, my mobile phone and computer crashed. I was already depressed. I was said to be anxious by others. I was really annoyed. It seemed to be seen through. I was hiding behind the Internet. This feeling is really true. It's so uncomfortable, I was seen through, and I was anxious for just two words. All the strong and strong smiles I disguised collapsed and became a clown who was laughed at. I really don't want to pretend to be strong anymore. Nothing, I have nothing left to lose with the mentality of playing.
えーと、急いでいて、携帯電話とパソコンがクラッシュしました。もう落ち込んでいました。他人から不安だと言われました。本当にイライラしました。透けて見えたようです。インターネットの後ろに隠れていました。この気持ちほんとうに本当です。とても不快で、透けて見えて、たった2つの言葉が気になりました。変装した強い笑顔がすべて崩壊し、笑われたピエロになりました。本当にしたくありません。もう強いふりをします何も、私は遊ぶ精神で失うものは何も残っていません。
음…바빠서 핸드폰도 컴퓨터도 고장났어 이미 우울했어 남들이 불안하다고 하던데 진짜 짜증나더라 꿰뚫어보는거같았어 인터넷뒤에 숨어있었어 이 느낌 진짜 사실이야 너무 불편해 꿰뚫어보고 두 마디만 하면 불안해 내가 변장한 강하고 강한 미소는 다 무너지고 비웃음당하는 광대가 되어버렸어 정말 하기싫어 더는 강한 척해 노는 멘탈에 잃을 것도 없어
Euh, j'étais pressé, mon téléphone portable et mon ordinateur sont tombés en panne. J'étais déjà déprimé. Les autres m'ont dit que j'étais anxieux. J'étais vraiment énervé. Cela semblait être vu à travers. Je me cachais derrière Internet. Ce sentiment est vraiment vrai. C'est tellement inconfortable, j'ai été vu à travers, et j'étais anxieux pour juste deux mots. Tous les sourires forts et forts que j'ai déguisés se sont effondrés, et je suis devenu un clown dont on se moquait. Je ne veux vraiment pas faire semblant d'être fort plus rien, je n'ai plus rien à perdre avec la mentalité de jouer
Um, spieszyłem się, mój telefon komórkowy i komputer uległy awarii. Byłem już przygnębiony. Przez innych mówiono, że jestem zaniepokojony. Byłem naprawdę zirytowany. Wydawało się, że jest przejrzane. Ukrywałem się za Internetem. To uczucie to naprawdę prawda. To takie niewygodne, zostałem przejrzany i nie mogłem się doczekać tylko dwóch słów. Wszystkie silne uśmiechy, które ukrywałem, zniknęły i stałem się klaunem, z którego się wyśmiewano. Naprawdę nie chcę udawać, że jestem już silna. Nic, nie mam nic do stracenia z mentalnością grania
Ähm, ich hatte es eilig, mein Handy und mein Computer stürzten ab. Ich war schon depressiv. Andere sagten mir, ich sei ängstlich. Ich war wirklich genervt. Es schien durchschaut zu sein. Ich versteckte mich hinter dem Internet. Dieses Gefühl ist wirklich wahr. Es ist so unangenehm, ich wurde durchschaut und ich war auf zwei Worte bedacht. All das starke und starke Lächeln, das ich verkleidet habe, ist zusammengebrochen und ich wurde ein Clown, der ausgelacht wurde. Ich will wirklich nicht tu so, als ob du stark bist. Nichts, ich habe nichts mehr zu verlieren mit der Mentalität des Spielens