This thread will consist of my J7 progression and how it affects my overall accuracy. For the next two weeks I will be playing nothing but J7 while refusing to look at the Wife%. This post will be updated everyday with my personal thoughts and perhaps a screenshot of my best score.
For starters, I will work my way up from files rated at 15MSD and my goal is to understand the J7 windows more. I apologize for bad formatting
2020-17-02: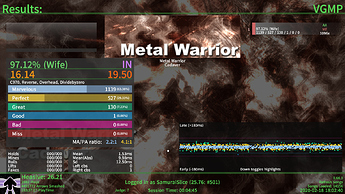 As you can see my best score for "today" is Metal Warrior in VGMP.
The reason I chose this score as the best is because it is repetitive and consists of patterns that are easy to mess up, such as trills and stairs. Despite the one cb, I believe I did an excellent job at keeping my cool.
Thoughts/realizations: I can just barely feel the the J7 great window. When 16ths are introduced it is considerably harder to feel it.
2020-18-02: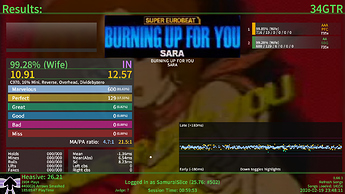 My best score for today is
BURNING UP FOR YOU
in
34GTR
because this is my new best acc score, being about 99.9496 Wife%. I didn't really want to play today but I have to persevere.
Thoughts/Realizations: None
2020-19-02: No best score for today as all of my scores were distasteful. I finished all except a select few of nearly infuriating files in VGMP
Thoughts/Realization: I'm really starting to get angry at playing acc, as per usual. I completely butchered my RA and cb'd a lot. Near the end of the session I felt like uninstalling Etterna.