Hello there, this is 'eTTERNApicman2' (Otherwise known as 'epic man 2' in other VSRGs)!
I've first started playing Etterna back in about April of 2022 out of curiosity seeing as the game is rather popular in online communities that I have been involved with for a while, and I thought that the maps were quite fun to play with along with the general engine itself!
So - because of that and well, the fact that i've been charting for 4 years now as of today (29th of May, 2023), I thought to myself: "Why don't I upload my own charts onto this game for others?" which brings us to where we are now.
This is my first pack upload on this website and I had made small appearances in other packs before (Such as NeoPanga-'s 'AI Toke Collaboration Pack'), so this is just a debut for 68 other charts that i've made from mid-2020 to today with each individual file differentiating in quality.
You can download it here: EM2's Etterna Dumpster.zip - Google Drive
As for a more generalised overview of the pack itself: This is a pack that features a wide array of different charts which focus on different types of patterns, ranging from…
Hold note-biased files (September, What You Really Want, Shape Of You)
Technical files (Nhelv, Akari ga Yattekita zo, OMG, Sandstorm)
Speed files (Breaking The Habit, Calm Down Juliet, Born Survivor)
Jack files (He's a Pirate Remix, What Are You Waiting For VIP)
Stamina files (Worldwide Choppers, XILDM LU GSV WVERO)
Jumpstream/handstream files (Astronomia, Gyakkou, Timberwolf)
And more!
With a flexible variety of different songs and charts across 70 files, I hope there is something for players on this platform to enjoy!
As for the graph listing each song used in the pack, the image below should be able to demonstrate it.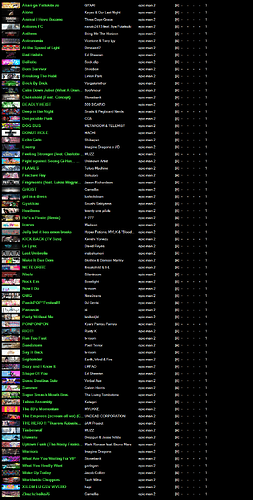 The pack here may not include every single chart i've made beforehand, but that's okay since I might make a sequel to this another time – if you have any sort of suggestions like feedback or song suggestions even, feel free to lemme know on other platforms (Like Discord, Twitter, etc)!
Anyway, I suppose that is enough of me rambling about a pack release. Thanks for reading and I hope you enjoy what this pack entails!

btw i made all the banners for this pack myself because people preferred to take money for them skskdidje