↑ Click the banner to download the pack after reading the songlist ↑
Abrupt Telephone Marketing is a variety pack which is made by two telemarketers: 8230 and MEIDAN (well, it's just a joke) , and it's the 3rd pack for JDB (jj & dd's bb), some files will be very hard, but ATM is much easier than JDB or DJB.
There are 33 songs, 59 files in it.and there are three kinds of song:
·20 N / Normal: Each have two totally different files, such as one is jumpstream, another is chordjack, so you can play the file which you would like better.
·8 SP / Special: Only one file, and it is special in someway , you may like this.
·5 EX / Expert: Very difficult, you can practice with them.
So here is the songlist
Something about songlist

· 'cut' means I cut the song.
· '5*' is the star from OSU
· '5 chordjack' is the MSD from etterna
· '★Hard' or '★Insane' decided which diff's picture is on the right, it is downscroll.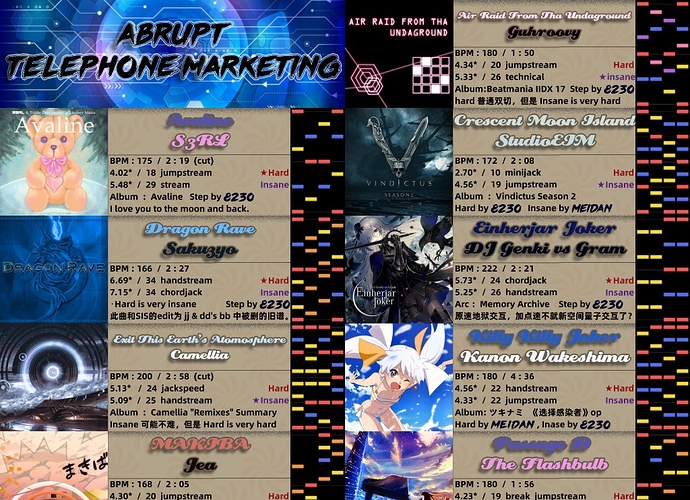 You can click here to download ATM, too
Other

If you find any bug plz reply
然后我想说这包是个人制作的包,都是练习向的谱,想下载的最好看看歌曲的封面再思考一下要不要下载。最近我们俩做谱都越来越慢了,所以下一个包可能就是有生之年。会用QQ的玩家可以加QQ群617227935加入涂桂宁的电话营销群唠嗑和获得最新OSZ格式的谱,以上。