Mirrors:
Google Drive
Mediafire
6K/SOLO ONLY
Welcome to the release thread of THE iDOLM@STER Cinderella Girls SOLO Project 3!! The sparkling world of idols has brought yet another iDOLM@STER Cinderella Girls 6K pack into fruition through the sheer power of doing our best! This is by and far the most ambitious project that I have ever conceived, and the end-product is what you see here. A significant investment of time and effort was put into polishing the pack into a sheen unprecedented by the previous packs. In this bundle, you will find animated background videos, cdtitles, and banners*, and a powerful songlist that towers over my previous IM@SCG packs with 60 songs, each containing 5 fully charted difficulties!

This pack aims to cater to players of all levels with each song armed with fully crafted charts that were carefully constructed and thoroughly playtested by a sundry of different testers ranging from beginners to top players with a heavy emphasis placed on player accessibility and fun factor in mind. Quality, technicality, and polish were always the top priority in the creation of this pack, yet there is still even more beyond that!
I hear an echo in the distance. Hm? What was that!? You say that the previous packs were too easy for you and you need more to satiate that thirst for challenge!? Then allow me the pleasure to introduce to you a brand new Insane difficulty! Be warned that this new level of difficulty will reach new heights of challenge to thoroughly test each player's skill! Similar to THE iDOLM@STER Cinderella Girls Starlight Stage's MASTER+ difficulty, this pack's higher-level files will introduce new mechanics and patterns not commonly found in conventional 6k Etterna charts. Prepare to fight for the top spot as you attempt to overcome roll notes, lifts, mines, color theory, and more! Combined with an expansive diversity of tricky patterns and beefy density, even the greatest, most skilled 6k players will find a worthy challenge here!
Sounds pretty scary, right? But fret not! Those who seek the familiarity and pattern friendliness of the previous packs can still find exactly that within the other 4 difficulty levels, which have also been treated with the same level of affection and diligence given to the Insane charts! As a comparison, the Hard charts in this pack share a similar level of difficulty with charts of the same difficulty level from the previous two IM@SCG packs.
Before going forward, please be aware of these conditions to ensure proper enjoyment of this pack:
Please take some time to look over the readme file included in the pack folder. It contains important information that you could find quite useful!
It is highly recommended for the player to play through this pack using the latest Etterna build. Neglecting to do so may prevent you from experiencing the songs as the chart author intended.
These charts should be played with CMOD only due to the prevalence of color theory.
Due to the frequent use of rolls, lifts, and mines,

the player is recommended to play with J4 timing difficulty

. Playing on a higher judge can cause charts to become impractical and borderline unplayable.
Playing on the spawncamping-wallhack (2.2.6) Etterna theme may cause the animated backgrounds and banners during song selection to behave in an awkward fashion.

Mega: Part 1 | Part 2 | Part 3 | Part 4 | Part 5
Google Drive: Part 1 | Part 2 | Part 3 | Part 4 | Part 5
MediaFire: Part 1 | Part 2 | Part 3 | Part 4 | Part 5
Instructions: BGA Instructions
Since the default pack download link DOES NOT natively include background animations due to the sheer size of the video files (~500MB+ per MP4), clicking on the links above will take you to the download pages. Animated backgrounds are entirely optional. But if you would like to use them, you will need to download them from the aforementioned links above! Read and follow the instructions provided in the notepad file if you wish to add animated backgrounds to the charts.
THE iDOLM@STER Cinderella Girls SOLO Project 3 Songlist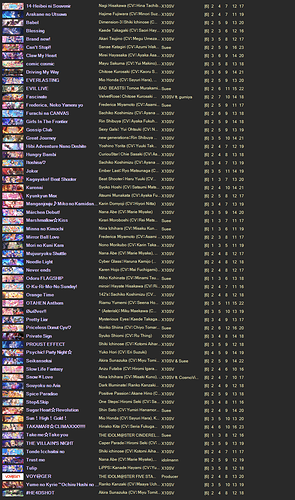 This pack has not been without its major hardships and difficulties in the 2+ years I've spent assembling it. After countless setbacks, I've inched my way ever forward to finally get things done and came through to bring forth a project that I have never expended so much effort in, and it has been so much more satisfying in ways that words cannot describe. I had originally set the pack's chart threshold at 30, believing that any more than that would come at the cost of my own sanity! But then I gained help from good friends and became so engrossed in exploring the many possibilities that one can achieve with charting and content creation that, before I knew it, I was sitting on the charts that you see in this pack before you. I hope that the efforts of myself and those who helped are clearly evident to everybody that plays through these songs. I sincerely hope that you enjoy this pack as much as I did in creating it, so good luck, and please enjoy! Before I get too long-winded, I'd like to extend my thanks to some great people.
A substantial portion of this pack was made possible through the steadfast patience of floflo/Suee, who has provided background animation recordings, important playtesting, QA and chart criticisms, assisting with brainstorming ideas for pack polish, inspiring me to try new charting meta, creating fun and awesome charts, encouraging me to see particularly difficult tasks to completion - just generally being a tremendous person. This pack would not nearly be as solid as it is now without his expertise in charting and playing experience. Now if only he could just refine his taste in idols…
Thank you to all of my playtesters, who have generously provided their time and crucial feedback for my charts. In no particular order, my heartfelt gratitude goes to:
smcs
Exag0n
paexaea
MOS420
Sheenoboo
Leo137
lemz
happybutter
Thank you to those fantastic few who have submitted chart difficulties:
Kraezymann
CosmoVibe
gumiya
• Oh, and Lazy Lazy. Because they're best daughters. Toko, too.
If you haven't played through the previous two packs yet, you can click the banners below to gain access to them!



If you have any questions, feel free to contact me via Discord at Kinx#2448.
Finally, come join us at the 6K Etterna Discord where you can post scores and discuss topics related to 6K! We'd love to have you there!